We are a vibrant community of artists, performers, researchers, designers, and educators committed to making meaning, learning, traveling, experiencing, and sharing. We collaborate. We build. We act and play.
We impact lives – your life.
Pursue your passions.
The College of Arts and Architecture offers more than 30 undergraduate and 15 graduate degrees in a resource-rich setting with world-class faculty and facilities, coupled with diverse arts, performance, and design programs, all in one of the Best College Towns in America. Our alumni get amazing jobs and make a difference.
Engage with the arts!
Penn State Arts and Architecture is a comprehensive college of arts and design, presentation, and performance. Supporting and elevating our extensive academic programs, the college also holds important collections and hosts powerful performances.
The Palmer Museum of Art and the Center for Performing Arts, as well as other A&A engagement units, foster significant partnerships and connections across the University, enrich the student experience, and expand the impact of arts, design, and performance at Penn State and within the broader community.
From welcoming world-class performers and premiere performances to housing globally relevant art collections and featuring contemporary exhibitions, the College of Arts and Architecture marshals the power of art, performance, and design to deeply investigate the most significant challenges of the times. And our invitation is open to all – visit, explore, experience. Engage with the arts!
---
Center for the Performing Arts
The Center for the Performing Arts at Penn State is unable to present public performances by artists at University Park during spring semester 2021, but the center's series of streaming presentations, Up Close and Virtual, continues free of charge to patrons.
Learn about the evolving lineup of Up Close and Virtual presentations.
---
---
Explore the Palmer
In addition to its growing collection that spans world cultures and centuries of art, the Palmer Museum of Art – a leading cultural resource for the region – is providing a diverse array of online programming and events, plus virtual tours and exhibitions. It's a fantastic time to experience the Palmer.
---
Alumni Spotlight
My Penn State education has influenced my career by developing me into a global citizen, through exposure to different people, resources, industries, cultures, and places.
Alumni Spotlight
Samantha Josaphat
B.Arch. in Architecture
2012
Samantha Josaphat is an architect and the founder of STUDIO 397 Architecture. Part of the mere 0.3 percent of black female architects registered in the United States, she is the 397th living black female architect to be licensed. Samantha entered the Penn State Architecture program in 2007, and by 2012, she had traveled to ten countries, become a member of the Arts and Architecture Student Council, and founded the Penn State student chapter of the National Organization of Minority Architecture Students (NOMAS). While at Penn State she built herself a valuable network of resources that continues to shape her path to success. Samantha is the 2019 president of the New York chapter of the National Organization of Minority Architects. Learn more about how Samantha's firm is impacting the narrative of black female architects in this video.
The student experience matters here.
The College of Arts and Architecture prioritizes experiences inside and outside of the classroom, through opportunities to engage with a thriving arts community.
Engage. Learn. Grow.
Thrive.
100%
100% of people are creative and have the potential to make massive impact on the world. We are here to help you realize your potential.
Faculty Spotlight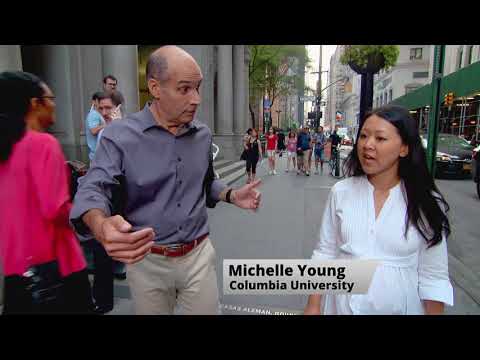 Marriott was featured on the "10 Streets That Changed America" episode of the PBS heritage program "10 That Changed America."
Paul Daniel Marriott
Associate Professor of Landscape Architecture
Paul Daniel Marriott is national leader in historic preservation and a global expert in historic roads. As a licensed landscape architect, he has advanced heritage recognition and planning policy for cultural landscapes around the world. His views on heritage and preservation have been featured in The New York Times and on National Public Radio and Radio National in Australia. He serves on the advisory board for the PBS heritage program "10 That Changed America" and was featured on the "10 Streets That Changed America" episode. His research was featured at the "Repton Revived" exhibition at the Garden Museum (London) in 2018 and he was invited to present on the history of scenic roads in the Highlands at the National Library of Scotland in 2019.