The Woskob Family Gallery is a space for contemporary arts and culture in downtown State College, PA. As a town and gown arts space, the gallery features a running series of exhibits and programs by local and visiting artists.
Contemporary arts + culture
The Woskob Family Gallery is a contemporary art space in downtown State College that brings a cohesive and carefully curated program of exhibitions and events to central Pennsylvania. Run by Penn State's College of Arts and Architecture, the gallery serves as a laboratory for exploring how the arts can catalyze creative placemaking.
The gallery's mission is to forge new relationships between the university and local communities, increase the perception of downtown State College as a cultural destination, and spark new creative enterprises. Through partnerships with the borough, local government, and arts and cultural organizations, we seek greater local investment in arts and culture projects.
The gallery is generously supported by the Borough of State College.
Affordable Art Sale
DECEMBER 2, FRIDAY, 5–8 PM
DECEMBER 3, SATURDAY, 11 AM–4 PM
During our monthly First Friday event and the next day, the Woskob Family Gallery will collaborate with the Penn State Painting Club and clay cOven to host an affordable art sale in time for the holidays. Join us in the gallery for cups, paintings, works on paper, and more!
Naomi Reis: Talisman for Unknown Territories
Consisting of a video, window installation and sculptural objects, the piece addresses our collective anxiety about the future within a warming and divisive global landscape. The title comes from the translation of terra incognita, the cartography term for undocumented regions on a map.
The video "Destabilized Landscapes" was taken via helium balloons attached to a Go-Pro and flown over landscapes shaped by human interventions. Piloted by the wind, the footage—at times calm and steady and others violent and shaky—serves as a metaphor for the Anthropocene, as we move into unknown territories.
The installation features hanging vines made from printed washi-paper cutouts of Boston ivy, along with hand-crafted talismans made from locally grown wild grasses. Vines symbolize tenacity, regeneration, connectivity, while the talismans are an interpretation of Japanese Shinto ropes that mark the boundary between sacred space and ordinary life. The talisman over the entrance invites good fortune with its seven strands of wild grasses, topped by a circle symbolizing wholeness; the wall talisman is modeled after a prawn shape, a symbol of longevity. 
Special thanks to the artist Julia Oldham for making the video component possible. This work bookends Reis' lecture for the John M. Anderson Endowed Lecture Series, Borrowed Landscapes: Artistic Practice as Space Making (September 28, 2020).
Naomi Kawanishi Reis makes 2D works and installations featuring non-fictional spaces: idealized landscapes featuring utopian architecture, conservatory gardens, and still life, collaged together and recreated using everyday materials like paper, blades, and brushes.
She has exhibited at Praise Shadows (Brookline, MA), @KCUA (Kyoto, Japan), Transmitter (Brooklyn, NY), Youkobo Art Space (Tokyo, Japan), Mixed Greens (New York, NY), and the Brooklyn Academy of Music, among others. In 2018 she received a Joan Mitchell Foundation Painters & Sculptors Grant, and in 2015 was a New York Foundation for the Arts Finalist in Painting. Reis received an MFA from the School of Design at the University of Pennsylvania, and a BA in Transcultural Identity from Hamilton College. Born in Shiga, Japan, she currently lives on unceded Lenape land in Brooklyn, NY.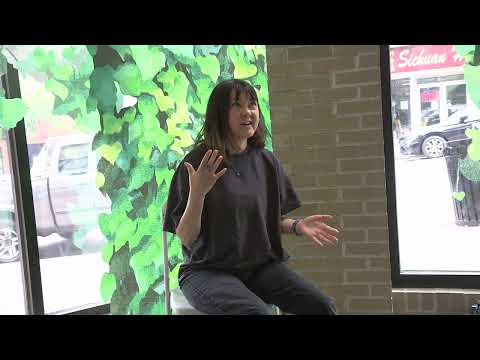 Marian Bailey: patterns of a life
In a world rife with overconsumption, it can be easy to buy into the capitalistic idea of purchasing a new article of clothing for every occasion. Rapidly cycling trends and easy access to fast fashion makes keeping up with what is cool fairly attainable. More people are grappling with what it means to consistently buy things from places like Shein and Amazon and thinking harder about where these low-quality items end up when they're finished with them.
In this piece, Marian Bailey decided to create a new pattern from things that she's bought secondhand. Buying vintage and secondhand clothing is a great alternative to fast fashion for many people. Vintage clothing tends to be of a higher quality that lasts longer and buying secondhand also means that whatever was purchased will have a longer life.
Marian Bailey is a self-taught visual artist located in Philadelphia, PA. She is an illustrator, muralist, and even a model when asked. Her mediums of choice are digital art and acrylic paint. Marian loves creating large-scale murals and smaller digital pieces. She creates bold, colorful illustrations and portraits of people, both known and imagined.
Tactile Perceptions, Two Interactive Installations
'Tactile Perceptions, Two Interactive Installations' presents the first iteration of works in progress by artists and Penn State School of Visual Arts faculty members Bonnie Collura and Andrew Hieronymi.
Nichole van Beek: Grow Forward Together
Grow Forward Together is a window installation made from kombucha cellulose painted with bio-based inks creating a soft stained-glass effect.
Stacy Levy: When Art Works
The screened videos (Mold Garden and Tide Flowers) show two installations by Pennsylvania-based environmental artist Stacy Levy.
Catie Dillon: Remain in Light
Dillon choreographs a dreamlike dance as playful shapes and riotous colors set the stage for exploratory looking.
Learn More
We are located on Allen Street in downtown State College, in the Penn State Downtown Centre Theatre.
Hours: Fridays 12:30-5 PM
Keep up-to-date on our latest events and announcements.