Theatrical masterpieces and new gems by emerging masters all here, at Penn State's professional theatre training program.
Deep roots + emerging masters
Centre Stage may not have a 100-year history, but our roots run deep in the region. So many major artists, and soon-to-be major artists, have crossed our stages over the years and this illustrious history has been enriched by our community support. Please join us this year as we begin to tell the stories of the next 100 years.
---
PSCS Virtual
Penn State Centre Stage Virtual (PSCS-Virtual) is offered free to the public and was created to support our students during this difficult time. Please consider a donation to the School of Theatre Future Fund which allows us to help offset financial needs of students in the School of Theatre who are adversely impacted and in need of emergency assistance.
---
---
---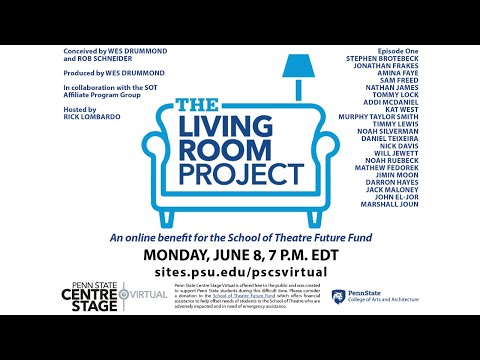 Become a Patron
Penn State School of Theatre is home to one of the finest theatre training programs in the country. We invite you to have a richer theatre experience by becoming a patron of Penn State Centre Stage. With your gift, the show can go on. Let our students know that you love the theatre and care about ensuring opportunity for artists.
---
---
We are able to do what we do because you believe in us.
Our students, faculty, and visiting professionals bring tremendous talent to the stage—and you give them a stage to stand on. Our choreographers, costume and scenic designers, lighting technicians, and entire artistic team envision new worlds—and you give them the resources to realize those worlds. While Penn State provides a foundation for our theatrical productions, we rely on the generosity of our community to provide the additional resources needed to perform at the highest level. Your gifts provide financial assistance with show rights, costumes, technical equipment, set materials, music, marketing, and supporting visiting artists and educators who come to share their craft.
Your patronage will also provide assistance for students with financial need to take advantage of extra-curricular opportunities such as master classes, regional theatre productions, and conference participation. We're thankful for your partnership and philanthropy, and we applaud every person who joins us in our mission to make our theatre training program one of the top ranked in the country. We can't wait to show you what's next.
You can make a tax-deductible donation to Penn State Centre Stage by phoning 888-800-9163, or by visiting raise.psu.edu/PSCentreStage. Specify "Centre Stage–XAFPS" when you make a credit card gift by phone or online. You can also mail a check to: PSCS/Penn State, 116 Theatre Building, University Park, PA 16802-1506.
Patron Levels + Benefits
Friend $5 to $99
Pre-sale season notification
Benefactor $100 to $499
Above, plus:
Playbill recognition
Supporter $500 to $999
Above, plus:
Name recognition in lobby
Invitation to pre-season event
Tour behind the scenes
Performer $1,000 to $2,499
Above, plus:
Invitation to preshow meet/greet
Invitation to meet Artistic Director
Director $2,500 to $4,999
Above, plus:
Membership in Ralph D. Hetzel Circle  of the Penn State President's Club
Playbill program highlight
Producer $5,000+
Above, plus:
Membership in Edwin E. Sparks Circle of the Penn State President's Club
Playbill program highlight
Unique personalized production experience, with recognition as a show sponsor