30 October 2020
As the COVID-19 pandemic took hold of the country last March, it quickly became clear to many that the arts were more than creative outlets and modes of cultural expression. Artistic and creative forms of resilience were beginning to emerge in myriad ways.
We watched elaborately edited ensemble performances with each singer occupying a tiny box on our computer screens instead of situated on a well-lit stage. Visual artists took their work in new directions, using unconventional materials and exhibition formats while they grappled with our "new normal." As an entire industry shut down with no reliable reopen date in sight, theatre professionals figured out how to stage performances via Zoom.
While our current available opportunities to experience the arts in person remain limited, there is no denying what the arts "do." The arts bring us together. The arts reflect our current circumstances. The arts assist us as we deal with what is likely the most challenging period in our collective lifetimes. The arts help us feel like we are not alone, even if we are no longer together.
As alumni and supporters of the College of Arts and Architecture, I know you are intimately familiar with what the arts "do." So, you may be wondering how, in the midst of a global pandemic, we are "doing" the arts at Penn State. For sure, it does not look like what you remember or may have experienced when you were a student. What is similar, however, is how our academic and outreach units have continued to offer a robust schedule of visual arts and performance opportunities, visiting artist and scholar lectures, panel discussions, workshops, and educational programming—all in a virtual format.
While it seems like very little of what we do is the "same," teaching and learning in the arts and design at Penn State is not as different as you might imagine. Thanks to the tremendous efforts of our staff and faculty, we have figured out how students can work safely in studios, on stages, and in classrooms. Health guidance and safety protocols have required us to call into question many of our uses of indoor spaces. That is, the likely locations for doing what we do have yielded to other spaces in which we now perform, design, and learn.
Too many students for a rehearsal hall? The Nittany Parking Deck has proven to be a suitable site to rehearse and perform music. Concerned about adequate ventilation in small music and theatre studios? Limit the number of students in the space for 30 minutes, and allow 30 minutes for the air to change before the next group can enter. Design studios are following strict schedules with small numbers of students allowed at one time. Faculty members have developed more sophisticated and creative ways to engage students via remote learning informed by what they experienced during remote instruction last spring. These are but a few examples of how we are making it work.
We cannot "make it work" without your support—as volunteers, as mentors, as donors, and simply as friends. On December 1, you will have an opportunity to support several different initiatives in the College of Arts and Architecture as part of Giving Tuesday: Glee Club Endowment Fund; Blue Band Legacy Fund; Penn State School of Theatre Future Fund; George Trudeau Endowment for Diversity, Equity, and Inclusion at the Center for the Performing Arts; K–12 education and diversity programming at the Palmer Museum of Art; and African American Music Festival hosted by Essence of Joy. Check arts.psu.edu and our social media channels in the coming weeks to learn more about how you can contribute to these initiatives. With your support, we can continue to do what we do and "make it work."
I encourage you to check out some of our virtual programming in the coming weeks and months—I promise you will not regret it! As always, I appreciate your support of and engagement with the College of Arts and Architecture. Thank you.
B Stephen Carpenter II
Dean, College of Arts and Architecture
The Pennsylvania State University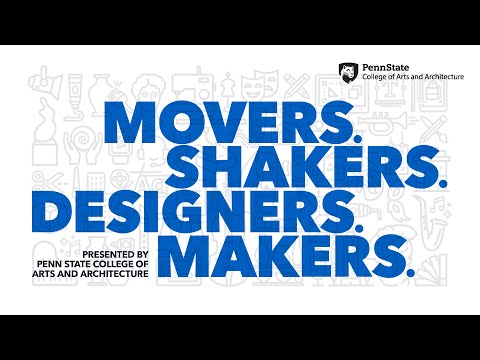 Movers Shakers Designers Makers
Episode #3: Roberto Lugo, ceramic artist, Tyler School of Art faculty, and Penn State School of Visual Arts MFA alumnus talks with Dean Carpenter.
---
Episode #2: In this video, the Dean chats with A&A alumna and architect Samantha Josaphat.
Episode #1: Watch M/S/D/M video with School of Theatre alumnus and social media entrepreneur Mike Karns.
Message Archive
28 August 2020
28 August 2020
The new academic year is officially underway and you likely have visions and memories of campus at this time of the year, filled with new students roaming the halls, friends hugging and reconnecting, and faculty and staff prepared and ready for another promising semester ahead. Yet, as we know, this fall will be unlike any we have faced previously.
As we frame our path forward, we will do so in the spirit of a #CultureOfChange. In short, the ways we reimagine what and how we do what we do will define who we are as a college and where we will go.
Within this evolving landscape of change, some elements have remained essentially the same but taken on different formats. For example, I have maintained the ability to meet many long-time donors, friends, and alumni of the college through events; however, the locations for these meetings have been confined to our computer screens.
The online space has also enabled us to rethink some of our work and the engagements we make beyond campus. Penn State Centre Stage has produced a series of streaming video evening performances. The Palmer Museum of Art has provided a host of virtual museum resources to keep access to our collection, exhibitions, and educational programs available. Penn's Woods Music Festival offered a rebroadcast of some of last year's concerts along with live, virtual discussions with some of the performers.
One of our new efforts is a conversation series called "Movers, Shakers, Designers, Makers," in which I talk one-on-one with some of our inspirational alumni. Check out the second installment in the series, with architect Samantha Josaphat, lower on this page. The first interview was with social media entrepreneur Mike Karns, and next up is visual artist Roberto Lugo. You can see them all on the College of Arts and Architecture's YouTube channel.
While we deal with health and safety issues directly related to the pandemic, the past several months have also elevated the national conversation on racial injustice and the need to address systems of oppression. The College of Arts and Architecture is committed to resisting racism, bias, and oppression is many ways, not the least of which includes positioning this goal within our strategic plan. As you may be aware, President Barron has established a matching program to support the creation of equity scholarships for students whose economic and financial situations would otherwise limit or prohibit them from attending college. In essence, these scholarships recognize what many of us already know—to make a positive difference in the world, sometimes we need to make a positive difference for each other.
As we move into yet another semester, one that will certainly be defined by more uncertainty, I am confident in our efforts to forge ahead.
10 July 2020
10 July 2020
Racism, Social Media, and Actionable Items for the College of Arts & Architecture
I am writing to acknowledge the numerous emails and social media posts in recent weeks from alumni and current students of color at Penn State documenting personal experiences of racism and racial inequities. Most of these posts are anonymous. I have paid close attention to the posts about issues of racism and marginalization within the College of Arts and Arts and Architecture specifically. As dean, and as an alumnus of the college, these posts ring close to home.
I hear you. I see you. I empathize with you.
As a scholar, artist, and citizen, and now as dean, I am committed to resisting racism, oppression, and social inequity in and through the arts and design. In the week after George Floyd's death, I commented as much and committed to addressing structural racism through systemic change. To do so, we cannot return to normal. We must instead take deliberate and meaningful action. Our steps in this direction will require us to make shifts in the college's culture [the way we do things around here], our policies [the agreements that guide what we do and why], and our allocation of resources [the support we provide to act on what we believe]. Shifting our culture, policies, and resources will be key to successful forward progress.
As we revise the College's strategic plan, we will include a goal to establish a culture of anti-racism and anti-oppression through our values, standards, ideals, policies, and practices. Below is a list of just some of the actionable items that will fall under this goal:
Develop an anti-racism and anti-oppression statement for the College and commit ourselves to specific goals and actions.
Establish an equity audit series in which scholars, artists, and designers conduct anti-racism and anti-oppression equity audits of the College.
Conduct a College-wide anti-racism and anti-oppression audit of curricula, policies, and practices.
Conduct a national search for an assistant/associate dean whose charge will be to foster social equity, access, and impact through the lens of anti-racism and anti-oppression.
Revise curricula and degree expectations for every student in the College to complete at least one anti-racism/anti-oppression course before graduation.
Commit funding to support anti-racism and anti-oppression research, creative activity, and outreach initiatives.
Hire faculty, staff, and student interns to advance racial justice, anti-racism, and anti-oppression initiatives.
Increase anti-racism and anti-oppression programming.
These actionable items align with my personal priority to foster and sustain a culture of anti-racism and anti-oppression in the College. While we cannot revisit the past and revise what happened previously, we can take ownership of where we are now and make meaningful change in our present moment. This incomplete list of actionable items begins to take up that work.
There are two other actionable items that are under development. First, I plan to initiate a conversation series to discuss systemic inequities, oppression, and racism generally, with specific attention to the ways in which these systems operate within and as the arts and design. The format of the conversations is under development but will require participation by students, staff, faculty, alumni, and others associated with the College who are willing to share their stories, contribute to meaningful dialogue, and work toward positive action and change. Second, I am prioritizing the establishment of endowed scholarships to improve our recruitment and retention of students with financial need and whose race, ethnicity, gender, culture, and/or national origin would diversify the student population in the college. These two initiatives are additional examples of my commitment to resist racial injustice and dismantle systemic oppression.
The current visibility of racial injustice occurs in tandem with the coronavirus pandemic. We must be attentive to both life-threatening circumstances. I trust you will keep yourselves and others safe as we make our way through the summer.
25 June 2020
25 June 2020
As I write this, in late June, we at Penn State are addressing issues we never could have imagined just a few months ago. Even as the COVID-19 pandemic began to grip the world in March, we could not have anticipated the confluence of issues we are facing currently as we prepare for the University's planned return to campus in late August. Like the rest of the University, the College of Arts and Architecture is still working out details, asking questions, and piecing together answers on everything ranging from how students and faculty can safely return to studios and classrooms, to how we as a college can address the mounting racial tensions across the country.
On June 15, Penn State announced its plans to resume on-campus work and instruction in the fall. The announcement, "Back to State," outlines guidance to date for resuming "on-campus, in-person classes and other activities this fall in a limited fashion," with a "highly flexible mix of in-person, remote, and online instruction throughout the semester." This guidance is evolving on a daily basis as we ask more questions and make informed decisions accordingly.
From the onset of the remote teaching/remote working mandate, I have maintained a position that privileges the health and safety of faculty, staff, and students, and a commitment to not endanger the lives of the college community when we can do otherwise. Our faculty and academic unit heads have been working diligently to determine the delivery mode of courses for the fall, based on pedagogical and instructional needs, as well as the current safety protocols and guidance on keeping themselves and students as safe as possible.
Like other universities across the country that are making purchases of hand sanitizer, masks, and plexiglass, we are also reacting – along with the rest of the world – to the ongoing protests in the wake of George Floyd's death and other incidents of racial bias. As you may be aware, Penn State unfortunately found itself in the national news for several alleged incidents of hate speech on the part of students. In response, President Barron has established a Student Code of Conduct Task Force and Select Penn State Presidential Commission on Racism, Bias, and Community Safety to work together to provide concrete, actionable proposals to the University on how to address issues related to racism, bias, and religious intolerance on campus. The Board of Trustees has appointed an oversight group to hear regular updates from the select commission.
In addition, the University has launched a roundtable series, "Toward Racial Equity at Penn State: Social Difference, Social Equity, and Social Change." I am proud to be a panelist for the first conversation, "Race, Our Campus Climate, and Workplace," on Tuesday, June 30, 3–5 p.m., which can be watched live at watch.psu.edu/toward-racial-equity. I encourage you to tune in if your schedule permits. Furthermore, in recent meetings with members of the Philanthropic Council and the Arts and Architecture Alumni Society Board, I discussed our progress on revisions to the strategic plan, as well as a set of actionable items our college will pursue to promote student success, to advance research, creative practice, exhibitions, and performances, and to confront racial bias and systemic oppression.
As I mark my first six months as dean of this fantastic college, I anxiously look forward to when I can meet more of our alumni and friends in person. In the meantime, please check out the first installment in our new series, "Movers Shakers Designers Makers," where I chat with alumni from across the college. It was great to reconnect (via Zoom!) with School of Theatre alumnus and social media entrepreneur Mike Karns.
I hope you and your families are staying safe and healthy, and finding creative ways to live and learn in the midst of uncertainty in so many aspects of our lives. Thanks, as always, for your support.