25 February 2021
As we conclude the month of February 2021, spring is on the horizon, as well as hope that we are making our way out of the pandemic. Of course, some degree of pre-pandemic normalcy rests in front of us, although there is still uncertainty about vaccine distribution, access, and timeframe. With the University's recent announcement of plans to increase the number of in-person courses this summer in hopes of having a full on-campus learning environment this fall, we have reason to be cautiously optimistic.
February is the second month of the calendar year, the month with the fewest days, and the month in which Black History Month and Valentine's Day are both situated. I cannot take credit for this less than insightful observation – my recollection is I first heard this fact pointed out by a stand-up comedian on some late-night television show – however, the point raises questions for consideration. This year, during February, Penn State and other institutions fell victim to racist, anti-Semitic, and misogynistic Zoom bombings, a stark reminder of ongoing issues related to campus climate and our need to stand firm in our commitment to establishing a culture of anti-racism and anti-oppression in combating social injustice, inequality, and systemic oppression.
This month severe weather conditions produced power outages and interruptions in services across the country. Yet during this same short month, the University resumed in-residence instruction for some courses. The College of Arts and Architecture continues to make necessary adjustments to teaching, creating, researching, performing, rehearsing, and working within the context of heightened attention to health and safety regulations, including increased testing for on-campus students.
While in-person activities are still limited, we continue to offer numerous virtual options. Look for engaging conversations in the "Movers. Shakers. Designers. Makers," series in which I conduct 1:1 interviews with alumni from our college. The most recent interviews are with Alumni Award recipients such as Landscape Architecture alumnus Adrian Smith and "Frida Kahlo," an alumna and founding member of the Guerrilla Girls. We hope to honor these and other Alumni Award recipients in person in the fall.
The Palmer Museum of Art reopened earlier this month with a new timed-ticketing system and a new website. The Center for the Performing Arts, the School of Music, and the School of Theatre continue to make the performing arts accessible to audiences locally and elsewhere. Check out the college calendar for a complete list of events, talks, and performances.
Over the past month, as has been the case throughout the past year, former classmates, alumni, donors, and friends of the college have shared notes and e-mails of support and encouragement. They have posed questions inquiring about how staff, students, and faculty are managing. I appreciate your gestures of concern and hope you and your loved ones are safe and healthy. I recognize this year has been difficult for many of you – keep in mind the winter weather will soon be behind us with another spring soon to follow.
May you and those around you take care of each other. I hope to see you in person on campus in the near future.
B Stephen Carpenter II
Dean, College of Arts and Architecture
The Pennsylvania State University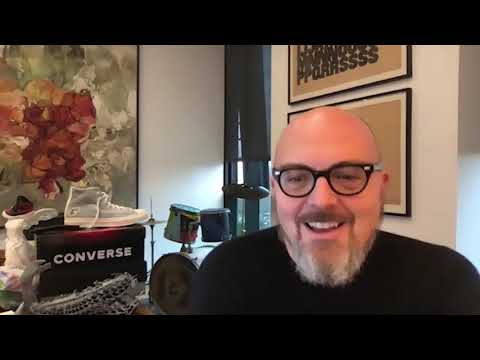 Movers Shakers Designers Makers
Episode #7: Swoosh! Or…the Dean chats with John Hoke III, Chief Design Officer for Nike.
---
---
Episode #6: Dean Carpenter has a "little bit different" talk with "Frida Kahlo," founding member of the Guerrilla Girls.
(Part 1 | Part 2)
---
Episode #5: Adrian L. Smith, FASLA – team leader of New York City Parks' Staten Island Capital Projects – speaks with Dean Carpenter.
---
Episode #4: Dean Carpenter chats with Graphic Design alumnus and A&A Alumni Award winner Adam Cohn about his work as the Vice President of Global Brand Design for Converse.
---
Episode #3: Roberto Lugo, ceramic artist, Tyler School of Art faculty, and Penn State School of Visual Arts MFA alumnus talks with Dean Carpenter.
---
Episode #2: In this video, the Dean chats with A&A alumna and architect Samantha Josaphat.
---
Episode #1: Watch M/S/D/M video with School of Theatre alumnus and social media entrepreneur Mike Karns.
Dean's Message Archive
19 March 2021
7 January 2021
17 December 2020
30 October 2020
28 August 2020
10 July 2020
25 June 2020