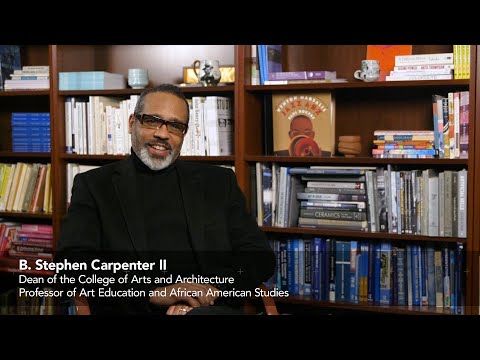 Hello! As I reach the two-year mark as the dean of the College of Arts and Architecture, I want to personally wish you and your families a happy, healthy, and safe holiday season. While I have had limited opportunities to meet with our alumni and friends in person, I have greatly enjoyed connecting with many of you on screens, by email, and in writing – and look forward to meeting more of you in person in the near future.
I think it's safe to say that these past two years as dean of this amazing college have been unlike those of just about any other new dean. Despite the challenges, there have been many, MANY silver linings. As an alumnus and faculty member in this college, I already knew we had an amazing community here – inspiring students, resourceful and dedicated faculty and staff, and committed alumni and friends all around the world who so generously share their time and talents to support our college.
Over the past two years, I have also observed first-hand numerous examples of incredible resourcefulness, flexibility, and creativity, as well as gestures of generosity and kindness. Challenging situations can often bring out the "best" of who we are – alumni facilitating virtual internships and networking opportunities, donors stepping up to support new initiatives in our "current normal," faculty adjusting their teaching modes and making accommodations to support students with varying needs, and staff working above and beyond expectations in an environment that brings large and small changes and challenges daily.
We have had a successful fall semester overall, with a return to in-person performances and other events following COVID-safe protocols, along with an array of virtual opportunities to accommodate different audiences. Those virtual opportunities – many of which we plan to continue – have been one of the "silver linings," because they allow us to reach a wider audience than usual, and to do so on a more regular basis than before.
My recent mantra for the college has been "making possibilities possible," so I want to close by saying YOU – our incredible College of Arts and Architecture community – are what make so many things possible, through your support, your time, your incredible ideas, and your commitment to seeing them to fruition.
I hope you are able to enjoy time with family and friends in the coming weeks. Best wishes for a brighter 2022!
B Stephen Carpenter II
Dean, College of Arts and Architecture
The Pennsylvania State University
Movers Shakers Designers Makers
In the "Movers Shakers Designers Makers" video series, Dean Carpenter takes the opportunity to talk with A&A alumni about professions, practice and Penn State. From gorillas and activism to pedagogy and Peachy Paterno, the topics are timely and free-ranging – laugh, learn and enjoy.
---
Episode #15: Dean Carpenter talks to Landscape Architecture alumnus Andy Witkin, who was recently inducted into the American Society of Landscape Architects' College of Fellows.
Click on the screenshot below to watch the latest…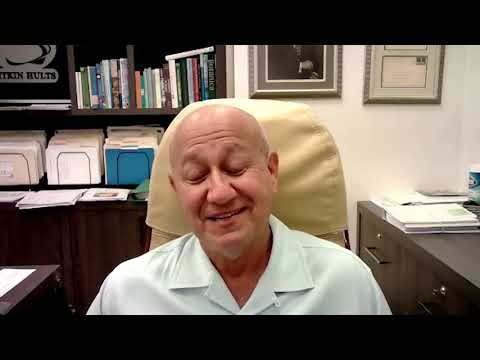 ---
Previous M/S/D/M Episodes
---
Episode #14: Dean Carpenter talks to Integrative Arts alumnus Mark Shulman, who has had an impressive career in high-profile concert promotion and venue development.
---
Episode #13: Dean Carpenter and Dr. Deborah Confredo, 2021 Alumni Award winner from the School of Music, chat about shared experiences and the evolution of online offerings in music education.
---
Episode #12: Heather Bhandari – independent curator, author and co-founder/program director of Art World Conference – and Dean Carpenter connect on topics of graduate education, art, curation, and learning.
---
Episode #11: Design and alumni naturally arise in the dean's conversation with Frank Dittenhafer, president of Murphy & Dittenhafer Architects and the Arts and Architecture Alumni Society Board.
---
Episode #10: Film, stage and television actor Patrick Fabian and Dean Carpenter cover the range.
(Part 1 | Part 2)
---
Episode #9: Dean Carpenter and Dr. David Gall chat about art education, teaching and David's international path to Penn State.
---
Episode #8: Dean Carpenter is interviewed by alum Brian Kappel and his daughter, Emma Kappel, a current A&A student.
---
Episode #7: Swoosh! Or…the Dean chats with John Hoke III, Chief Design Officer for Nike.
---
Episode #6: Dean Carpenter has a "little bit different" talk with "Frida Kahlo," founding member of the Guerrilla Girls. (Part 1 | Part 2)
---
Episode #5: Adrian L. Smith, FASLA – team leader of New York City Parks' Staten Island Capital Projects – speaks with Dean Carpenter.
---
Episode #4: Dean Carpenter chats with Graphic Design alumnus and A&A Alumni Award winner Adam Cohn about his work as the Vice President of Global Brand Design for Converse.
---
Episode #3: Roberto Lugo, ceramic artist, Tyler School of Art faculty, and Penn State School of Visual Arts MFA alumnus talks with Dean Carpenter.
---
Episode #2: In this video, the Dean chats with A&A alumna and architect Samantha Josaphat.
---
Episode #1: Watch M/S/D/M video with School of Theatre alumnus and social media entrepreneur Mike Karns.
Dean's Message Archive
2 November 2021
25 October 2021
30 August 2021
7 July 2021
29 June 2021
27 April 2021
19 March 2021
25 February 2021
7 January 2021
17 December 2020
30 October 2020
28 August 2020
10 July 2020
25 June 2020